Veeam Certified Architect v11 (VMCE11-A)
Termin
Inhouse
Individuell
Präsenz oder Online
5 Tage
3.750,00 € zzgl. 19% USt.
4.462,50 € inkl. 19% USt.
Leider haben wir zurzeit keine offenen Termine für diese Schulung. Wir bieten Ihnen aber gerne eine individuelle Lösung an.
Bei Ihnen vor Ort.
Inhouse-Schulungen finden nur für Ihre Teilnehmer bei Ihnen vor Ort statt. Termine und Inhalte werden mit Ihnen abgestimmt.
Komplett nach Ihren Wünschen.
Von Firmen-Schulungen nur für Ihre Mitarbeiter, bis hin zu individuellem Consulting oder Coaching mit Ihren Themen, Terminen und Orten.
Veeam Certified Architect ist die höchst mögliche Zertifizierung für Veeam-Spezialisten. Wer diese beiden Kurse und Examen bestanden hat, wird von Veeam zum Veeam Certified Architect (VMCA) ernannt:
Veeam Availability Suite v11: Configuration and Management und
Veeam Backup & Replication V11: Architecture and Design

Und darum geht's in den beiden Kursen:
The Veeam® Availability Suite™ v11: Configuration and Management training course is a three-day, technical deep dive focused on teaching IT professionals the skills to configure, manage and support a Veeam Availability Suite v11 solution. With extensive hands-on-labs, the class enables administrators and engineers to effectively manage data in an ever-changing technical and business environment, bringing tangible benefit to businesses in the digital world.
The two-day, Veeam® Backup & Replication™ v11: Architecture and Design training course, is focused on teaching IT professionals how to effectively architect a Veeam solution through attaining technical excellence following the Veeam Architecture Methodology used by Veeam's own Solution Architects.
ACHTUNG: Auf ausdrücklichen Wunsch des Herstellers Veeam dürfen wir die Termine der offenen Seminare zu den offiziellen Veeam-Trainings nicht mehr auf unserer Website veröffentlichen, sondern sollen die Termine jedem Interessenten persönlich mitteilen. Bei allen Veeam-Trainings haben Sie die Wahl, ob die Unterrichtssprache Deutsch oder Englisch sein soll und ob es im Präsenz-Unterricht oder als Online-Schulung stattfinden soll.
Bitte rufen Sie uns unter 089-680 897 337 an oder senden eine E-Mail an lewin@cmt.de und wir informieren Sie über die möglichen Termine sowie Kurse mit Durchführungsgarantie.
Zielgruppe
This course is suitable for anyone responsible for configuring, managing or supporting a Veeam Availability Suite v10 environment. This includes System Administrators, Engineers and Architects responsible for multiple Veeam deployments as a professional services consultant or those within large, diverse clients providing centralized IT services to the wider business.
Voraussetzungen für die Schulung
Students should be experienced professionals with solid knowledge of servers, storage, networking and virtualization. To prepare for the class, the Partner should complete the Veeam Sales Professional (VMSP) and Veeam Technical Sales Professional (VMTSP) certifications within the ProPartner website and customers should complete the free Veeam online training.
Kursinhalte
After completing this course, attendees should be able to:
Describe Veeam Availability Suite components usage scenarios and relevance to their own environment.
Effectively manage data availability in on-site, off-site, cloud and hybrid environments.
Ensure both Recovery Time Objectives (RTOs) and Recovery Point Objectives (RPOs) are met.
Install and configure Veeam Availability Suite into their environment, ensuring data is protected effectively.
Adapt with an organization's evolving technical, business and regulatory needs.
Ensure recovery is possible, effective, efficient, secure and compliant with business and legal requirements.
Provide visibility of the business data assets, and produce effective reports and dashboards to monitor performance and risks.
Conduct basic troubleshooting and analysis of their Veeam Availability Suite environment.
Accurately scope and size a technical environment, evaluating Veeam Availability Suite design decisions against current and future technical and business landscapes
Demonstrate the value of a Veeam deployment to both internal and external clients, ensuring designs that maximise Return on Investment
Guarantee and verify the recoverability of data to the business
Optimize configurations, ensuring workload impact on network, cpu and storage resources is within acceptable levels for the business.
Interrogate log files for detailed root cause analysis

Course Contents
Days 1-3: Veeam Availability Suite v10: Configuration and Management

Introduction:
Describe RTOs and RPOs, what they mean for your business, how to manage and monitor performance against them
The 3-2-1 Rule and its importance in formulating a successful backup strategy
Identify key Veeam Availability Suite components and describe their usage scenarios and deployment types

Building backup capabilities:
Backup methods, the appropriate use cases and impact on underlying file systems
Create, modify, optimize and delete backup jobs, including Agents and NAS Backup jobs. Explore different tools and methods to maximize environment performance
Ensure efficiency by being able to select appropriate transport modes while being aware of the impact of various backup functions on the infrastructure

Building replication capabilities:
Identify and describe the options available for replication and impacts of using them
Create and modify replication jobs, outline considerations to ensure success
Introduce the new Continuous Data Protection (CDP) policy

Secondary backups:
Simple vs. advanced backup copy jobs, how to create and modify them using best practices to ensure efficient recovery
Discuss using tapes for backups

Advanced repository capabilities:
Ensure repository scalability using a capability such as SOBR on-premises and off-site including integration with cloud storage
Ensure compatibility with existing deduplication appliances
Introduce the new hardened repository

Protecting data in the cloud:
Review how Veeam can protect the data of a cloud native application
Review how Veeam Cloud Connect enables you to take advantage of cloud services built on Veeam
Review how Veeam can be used to protect your Office 365 data

Restoring from backup:
Ensure you have the confidence to use the correct restore tool at the right time for restoring VMs, bare metal and individual content such as files and folders
Utilize Secure Restore to prevent the restoration of malware
Describe how to use Staged Restore to comply with things like General Data Protection Regulation (GDPR) before releasing restores to production
Identify, describe and utilize the different explores and instant recovery tools and features

Recovery from replica:
Identify and describe in detail, failover features and the appropriate usage
Develop, prepare and test failover plans to ensure recovery
Disaster recovery from replica to meet a variety of real-world recovery needs

Testing backup and replication:
Testing backups and replicas to ensure you can recover, what you need, when you need to
Configure and setup virtual sandbox environments based on backup, replicas and storage snapshots

Veeam Backup Enterprise Manager and Veeam ONE:

Introduce the concept of monitoring your virtual, physical and cloud environments with Veeam Backup Enterprise Manager and Veeam ONE™

Configuration backup:
Locate, migrate or restore backup configuration

Days 4-5: Veeam Backup & Replication V11: Architecture and Design
Introduction:
Review the architecture principles
Explore what a successful architecture looks like
Review Veeam's architecture methodology

Discovery:
Analyze the existing environment
Uncover relevant infrastructure metrics
Uncover assumptions and risks
Identify complexity in the environment

Conceptual design:
Review scenario and data from discovery phase
Identify logical groups of objects that will share resources based on requirements
Create a set of detailed tables of business and technical requirements, constraints, assumptions and risks
Review infrastructure data with each product component in mind
Create high level design and data flow

Logical design:
Match critical components and features of VBR with requirements
Create logical groupings
Determine location of components and relationship to logical grouping
Aggregate totals of component resources needed per logical grouping
Calculate component (storage, CPU, memory) quantity sizing

Physical/tangible design:
Convert the logical design into a physical design
Physical hardware sizing
Create a list of physical Veeam backup components

Implementation and Governance:
Review physical design and implantation plan
Review Veeam deployment hardening
Describe the architect's obligations to the implementation team
Provide guidance on implementation specifics that relate to the design

Validation and Iteration:
Provide framework for how to test the design
Further develop the design according to a modification scenario
Lernen von Experten
Zertifizierte und praxiserfahrene TrainerInnen
Durchführungs-Garantie
Unsere Schulungen finden ab der 1. Buchung statt.
Inklusive
Mittagessen, Unterlagen, Zertifikat, WLAN, Getränke uvm.
Gruppengröße
Minimal 1, Maximal 8 TeilnehmerInnen
Passende Unterlage
Inklusive Fachbuch zur Schulung.
Sprache
Deutsch (Englisch auf Wunsch)
Ähnliche Schulungen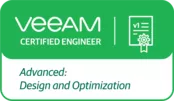 3 Tage Präsenz oder Online
2.450,00 € zzgl. 19% USt.
2.915,50 € inkl. 19% USt.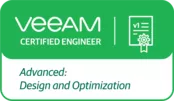 2 Tage Präsenz oder Online
1.750,00 € zzgl. 19% USt.
2.082,50 € inkl. 19% USt.
Noch Fragen?
Rufen Sie mich an oder schreiben Sie mir eine E-Mail!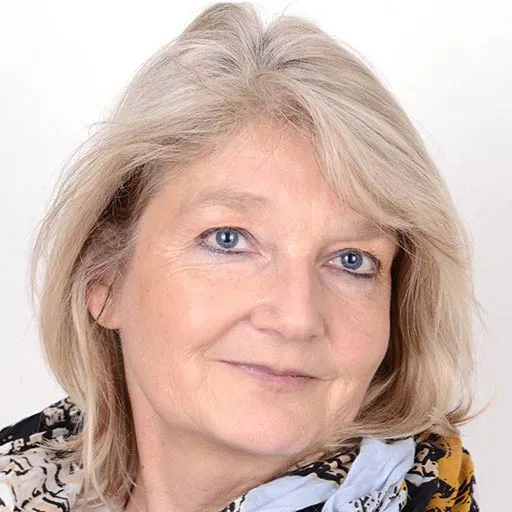 Michaela Berger